Most homeowners view winterizing their homes with an eye to keeping the porch steps, walkway, and driveway.  Now, they think, I'm all ready for winter. Au contraire. Properly winterizing a home's exterior involves much more.
Get An HVAC Checkup
Nothing upsets a homeowner more than waking up in an igloo, because the heat failed in the night. Your HVAC unit needs to be checked on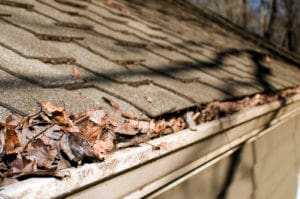 twice a year: once in spring and once in the fall. A professional inspection keeps the unit running properly and the ducts clean. Buy several air filters, and change them once a month.
Tip: Get the pleated air filters. They're a little more expensive, but they catch more pet dander, dirt, dust, mold spores, dust mites, and more contaminants. Your family will thank you for your home's improved air quality.
Winterize Your Home's Exterior By Checking Doors And Windows
Heat and cold will go over, under, and around any barriers to get to each other. This means doors need to be weather-stripped. Windows should be caulked. If there are major drafts around doors and windows, fix it now before the temperatures get too low. If it's not that bad, then a rolled up towel under the doors will suffice to prevent heat from escaping.
Tip: Use the candle trick to test for drafts around windows. If the flame flickers and you're holding it perfectly still, then you have leaky windows. Caulk them immediately. It will save money on your power bill.
Eyeball The Roof
It is highly recommended to contact a professional roofer to check the roof. Part of winterizing a home's exterior is knowing if the roof can support several feet of snow. Ice dams and leaks around the flashing should be repaired before it snows. Insulation should be added to the loft to prevent heat from escaping via the roof. Any loose shingles should be nailed down.
Tip: Cleaning the gutters and directing water into the downspouts will help keep debris from building up, thus damaging the roof.
Prep Outside Water Faucets
Unscrew the garden hose and bring it inside. Find your water main in order to turn it off in case of a plumbing emergency. Turn on any outside water faucets to drain water from them. Wrap them in foam insulation.
Find any exposed pipes inside. These can be found in lofts, basements, and crawl spaces. Wrap them in insulated foam.
Tip: If you'll be traveling in the winter, leave the heat on at about 50 degrees. This will keep the pipes from freezing.
Winterizing a home's exterior involves more than just salting the porch, walkway, and drive. It means tightening up and closing any means of letting the cold into the house. Gutt-R-Done Gutters is a family business that concentrates on all kinds of gutter-related services. If you're looking for professional gutter cleaning, repair or aluminum or steel installation work, we can come to your aid fully. We accommodate the gutter requests of customers all throughout the Southern Oregon region. Call us to receive a complimentary estimate.