Spring is just around the corner. It's almost time to open up the house, let some fresh air in, and get some spring cleaning done. You'll also finally get a chance to get outside and start working on getting the exterior of your home looking great again. How about starting with a little gutter maintenance? Here's some information about how your gutters work, and why spring cleaning gutters are so important.
Gutters protect your home.
Your home's exterior is subjected to the wrath of Mother Nature on a daily basis. Your gutters are designed to catch all of the rainwater that falls onto your roof and lead it to the downspouts where it will be directed away from your home, instead of pooling around it.
Why is spring cleaning gutters so important?
You should have them cleaned seasonally. The most effective cleaning seasons are spring and fall.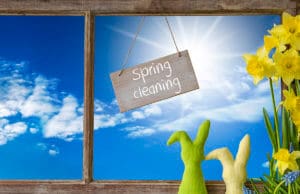 Winter is especially hard on both your roof and gutters, with all of the wind, snow, and ice. And, some of the leaves and other debris is still on your roof at the end of fall. All winter long, your gutters have been working hard at collecting all of that debris and water flowing off of your roof, and directing it through the downspouts. Gutter maintenance in the spring will make sure that there aren't any blockages that won't let the water flow as it should.
How can clogged gutters damage your home?
There are actually a few different things that can happen if your gutters get clogged.
Gutter maintenance is essential to protecting the exterior of your home. If they get clogged, and water backs up, the excess weight of the water can actually cause them to fall, damaging your home's exterior in the process.
The backed up water can also seep under the shingles of your roof, and begin to erode the wood frame, eventually leaking water into your home.
If the water is backed up, it will flow over the edge of the gutters, collecting around your foundation. A build-up of water near your foundation could cause issues with its integrity and could cause water to leak into your crawl space, causing even more issues.
Pests are also attracted to clogged gutters.
Standing water is never a good thing. It's the perfect environment for mosquitoes and other flying insects to lay their eggs and breed. And, the leaves and twigs that are causing the obstruction can be attractive spots for rodents and birds to build their nests.
Whether you are looking for gutter cleaning, installation, repair, or maintenance, give us a call today at Gutt-R-Done. Our family owned and operated business prides itself in treating our valued customers with the same dignity and respect that we treat our own families with. Find out how we've earned our reputation for providing honest, reliable, affordable, and prompt service across all of southern Oregon and the surrounding areas.