Advantages of Seamless Gutters- A Perfect Fit
Seamless gutters offer a perfect fit for the gutter system. If the gutter has seams it will often not fit together, and the water will puddle and leak in these areas. The joints can often get moved around, which will lead to leaks and damages. Seamed gutters are also more easily pulled apart during heavy winds. Seamless gutters will function as they should during high winds and will not leak.
Easy Gutter Maintenance
Seamless gutters offer easier gutter maintenance. Seamed gutters will be a catchall for debris at the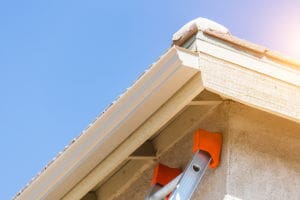 seams of each joint. Seamless gutters do not have this problem and will allow for debris to flow through naturally. Seamless gutters will not be attractive to rodents as they will not have cracks where a critter can enter in. So when you have seamless gutters, you will find that you spend far less time maintaining. In fact, all you will generally have to do is run a water hose through the gutter to eliminate any debris that might make it into the gutter system.
Advantages of Seamless Gutters- Curb Appeal
Another great benefit of seamless gutters is the fact that they can create a look at beauty to help improve your curb appeal. Many people find that seamless gutters are more aesthetically pleasing than the traditional ones. Seamless setters can be constructed from copper and steel as well as aluminum. They can also be painted to match the homes trim. These gutters can also come with a baked-on finish that will require no painting for many years.
If you are interested in learning more about the Advantages of Seamless Gutters, and you want to make sure that you choose a gutter that has easy gutter maintenance, you should consider calling us today for an estimate. Our Gutt-R-Done Representative will be able to come out and give you an upfront estimate on how much these gutters will cost to install on your home.