Are Your Gutters In Need Of Replacement or Repair:
Gutter replacement or repair problems can in many cases be pretty simple to identify. If you have gutters that are desperately calling out for professional repair work, several clues may emerge.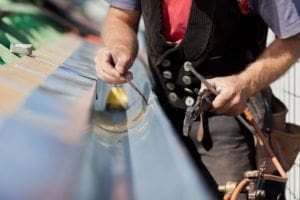 Your gutters may develop noticeable leakage, they may appear to be moving further from your structure, and your downspout may not be secure in its designated position and not working as it should.
You should be on the lookout for any and all indications that suggest that something is wrong with the functioning of your gutters. Ask yourself:
Do you spot any plants inside of them?
Do you spot mold or moss developing near them?
Are there any water leaks at all?
Do you see any splitting? 
Drooping, flooding or immoderate flow?
Other important clues that you need gutter replacement or repair.
Nails or screws on the ground. Sometimes, the nails or screws that fasten the gutter to the fascia can work themselves loose. Replacing them isn't difficult; but again, repeated instances of this may indicate gutter wear.
Separated gutters. Guttering systems only function if they are fastened together in a continuous channel. If they begin separating from one another frequently, it may be time for a gutter replacement.
Gutters pulling away from the roof. You can hammer in the fasteners time and again, but if spaces continue to appear between your roofline and your gutters, the fascia boards may be rotting. A gutter replacement will fix the fascia problems along with giving you new gutters.
Gutter maintenance and gutter replacement is an important part of maintaining your residential property and protecting it from environmental elements.
And if all of this is a little daunting, contact us today, and we would be glad to give you a quote and make having clean gutters a breeze.