Why choose Seamless gutters: Gutters are one of the most important ways to protect your home against the weather and to keep your roof, foundation, and landscape looking great. If you already have traditional gutters – it's a good idea to check them over and make sure they are in good shape. If you need to replace your gutters – take a look at the benefits of Seamless Gutters.
Why choose Seamless gutters?
Fewer Leaks
There are two big differences between seamless and sectional gutters. Although both might offer the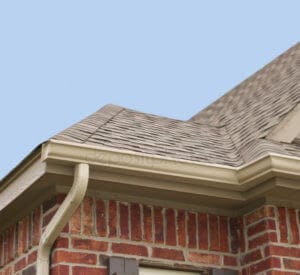 same type of protection, traditional gutters are more likely to leak. When the sections of a gutter are put together over the length of your home, wherever the sections meet can become loose and separated and allow water to pour down on your landscape ruining flowers and shrubs.
Seamless gutters over a streamlined expanse of metal that goes from one end of the house to the other. Not only does this type of gutter system look better, but there is also no chance of sections coming apart and causing problems.
Less Maintenance with Seamless gutters
Another advantage of seamless gutters is less maintenance. A sleek one-piece gutter unit allows water and debris to flow through the gutter, down the spout, and out into the yard. A sectional gutter will often become clogged with debris where the seams meet. This will cause a backup of water during heavy rain and the water can damage your roof and soffit.
Gutter Leaf Protection
Why choose Seamless gutters? Another good reason is the availability of leaf protection systems. Once we have installed your new, sleek gutter, we can add a protection system to keep leaves and other debris out of the gutter. This will save you time and headache in the Fall when the leaves are falling in bucket loads. Your neighbors will be jealous while they are up on ladders cleaning out their gutter, you can relax on your porch swing and enjoy the view.
Family Owned and Operated
Serving all of Southern Oregon, our professional technicians can install your seamless gutters and provide top of the line service. We are a family owned and operated company who respond quickly to phone calls and offers an honest estimate for the job. We offer discounts to active duty, veterans, and senior citizens and we want to make your life easier.
If you're ready to make the change from sectional to seamless gutters or install gutters to protect your home, call us today.