Gutter Repair Replacement Service In South Oregon
If you are in need of gutter repair, replacement or cleaning, Gutt-R-Done is your one call. We will promptly provide you with a free, no obligation price quote for your home or business property.
We specialize in the installation, repair, maintenance, cleaning, and replacement of seamless gutters. There are two varieties of seamless gutters. They are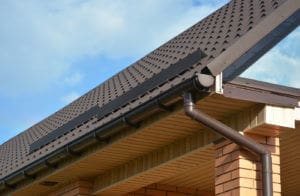 available in aluminum or steel, and the gutters feature a continuous surface and are finished off with joints at each corner. It is easy to maintain seamless gutters, and they stay cleaner longer than other types of gutters. The water flow is better, and this helps to minimize the backup of leaves and other debris in your gutters. You can select from a choice of colors that will add curb appeal and style to the exterior of your home. Our products are extremely well made and even can add value to your property.
Our Seamless Gutter Repair Replacement Service Is Affordable We custom install your new seamless gutters with the highest grade of materials. Our experienced crew will take the time to do the job right. One of the important functions of gutters is to help protect a building against the effects of weather. Gutters also enhance the look of the foundation, roof, and the property itself. When you hire us, we will help you build a seamless gutter system that looks great, protects your investment, and fits your budget.
We are a family owned and operated company. Here at Gutt-R-Done, we operate our business with honesty and integrity. We pay attention to every last detail of the job, and our work is thorough and consistent. Our service areas in Southern Oregon include Medford, Jacksonville, Central Point, Trail, Eagle Point,  White City, as well as Phoenix, Butte Falls, Sams Valley, Prospect, Shady Cove, and Gold Hill .
You can be confident that you will receive a straightforward and fair price for our work. We have been in business for many years in the community. Our excellent reputation in Southern Oregon speaks to our high ethics as business owners in the community. We thank all of our valued customers for placing their trust in Gutt-R-Done. We are confident that we will earn your trust as well. Please call us when it's time to replace or repair your gutters. We look forward to working with you.