Fall Gutter Maintenance: As the summer approaches its last days, fall and winter maintenance is upon us. The colder temperatures, snow, ice and hail can all wreak havoc on our home and property. Because of this, you'll want to make sure you address some routine home maintenance jobs before the snow flies. This will help protect your investment for many more years to come. Some maintenance you can do on your own. There are other jobs that you may want to use a professional in order to ensure the job is done right. When it comes to fall gutter maintenance, there are many benefits associated with this task. Let's take a closer look.
Gutter Maintenance and Flooding
If you have clogged gutters on your home, this allows water to back up over time. During a very heavy rainstorm or when snow begins to melt at a rapid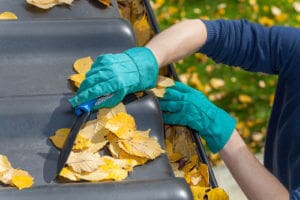 rate, this water can start to back up. When it backs up, the water doesn't have anywhere to go. Some will pool out over the edge of the gutter, falling onto the ground below. This might seem like no big deal, but you could be allowing a large amount of water to pool around your foundation in certain spots. This could eventually leak into your basement, causing mold, infestations, rot and much more. For the water that doesn't fall down onto the ground, it can get up under your roofing materials. Similar problems can occur such as mold and rotting of the structure of your home.
The Cost of Gutter Maintenance versus Gutter Damage and Repair
A routine appointment with a gutter specialist is quite minimal when you think about the damage you could be avoiding. Clogged gutters that spill into your walls, landscaping, and foundation can lead to damage that costs anywhere from $500 to $5000 or more. The hope is that you are able to catch the problem before it causes damage. If you haven't noticed a clogged gutter on your home, you might be looking at expenses relating to mold cleanup, roof repair, insulation replacement, and new gutters. While there are services that can help you get back on track after a gutter malfunction, it is always easier to prevent a problem. If you end up having mold grow in your home, this can create a very unhealthy situation for you and your family to be living in. Breathing in even minor amounts of mold each day can cause a great increase in allergies, upper respiratory illness and asthma attacks.
If gutter maintenance is part of your fall maintenance checklist, contact BUSINESS NAME for more information. Our staff of experienced employees can help you clean your gutters and make sure they are working properly. We want to make sure that you don't experience any kind of water overflow, water damage or pest infestations. Our staff is extremely well trained and experienced. We'll make sure your gutters are ready for the long winter ahead, even if you're dreading the change in weather!
Don't put off routine gutter maintenance. You can prevent mold growth, foundation damage and structural damage with just a quick, routine appointment.