How To Clean Your Gutters
As a homeowner, gutter maintenance is important to maintain the interior and exterior of the property to keep it safe and in excellent condition. Unfortunately, many people fail to clean out their gutters, which can lead to damage to the roof over time, especially in harsh weather conditions. If your gutters are clogged, it's important to know how to clean them out property to ensure that they continue to direct water away from the building.
Use a Leaf Blower
Most leaf blowers include a nozzle that can attach to the item and is used to push a narrow stream out air out, which is ideal from removing leaves and debris for clean gutters. Use a ladder to ensure that you can see everything clearly and remove all of the debris. You can also use a hose to wash away tiny pieces of leaves or twigs that are left behind.
Use Your Hands
If you don't mind a bit of manual labor or you have a lack of equipment, you can always rely on using your hands to have clean gutters. Wear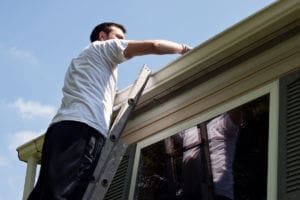 heavy duty gloves to protect yourself as you pull out clumps of debris and place it into a bucket to collect the grime. Finish the project by rinsing it out with the hose to ensure that you get the gutters clean and perform proper gutter maintenance when it's needed.
Purchase a Wet/Dry Vacuum
Many professionals use wet/dry vacuums to thoroughly clean out rain gutters, which feature curved attachments to perform a more thorough job. There may be dried dirt or grime that is present on the gutters, which may need to be gently scrubbed to clean the surface. You can also use a power washer to blast away dried dirt to ensure that it's completely removed in seconds.
Rinse with the Hose
For lighter jobs when the gutters aren't too clogged, you can use a hose to remove the debris. Consider purchasing an attachment that has a curved edge to ensure that the water can get inside of the gutters correctly and doesn't just spray onto the roof. Begin by cleaning out the gutters that are farthest from the downspout, which will create pressure to remove all of the leaves in the channel.
Clean with a Pole
If you prefer to stay on the ground while cleaning out your rain gutters, opt for removing the leaves with a pole that has an attachment. You won't have to worry about losing your balance and can clear away excess leaves that are visible. Although you may not be able to remove all of the debris in the gutters, you'll be able to maintain the feature.
Gutter maintenance is an important part of maintaining your residential property and protecting it from environmental elements. By performing gutter maintenance, you'll increase the lifespan of the rain gutters and can prevent damage that can occur to the structure over time.
And if all of this is a little daunting,
contact us today
, and we would be glad to give you a quote and make having clean gutters a breeze.