Tips on How to Winterizing Gutters Ahead of the Cold Season Is A Good Thing
We usually like to promise ourselves that at some point during the summer, we will get off the complete vacation mode and do some actual cleaning and repairs around the home. Unfortunately, as the winter draws nearer, most of us forget what that list of things to do was, and more times that we would like to admit, we find ourselves heading into the winter with problems like damaged gutters and a roof in danger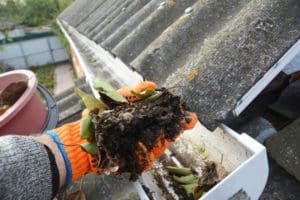 of getting leaks and other problems. Since I do not want you to ruin your roof this winter, I am going to share with you a few tips on winterizing your gutters ahead of the season.
Winterize your gutters by cleaning
The first and most important step in winterizing gutters is cleaning all the leaves, dirt, debris and everything else that has been accumulating in your gutters over the summer. You need a ladder, plastic scoop to remove the gunk and a brush to remove the leaves. Start with one end of the roof and proceed towards the other end of the house. When you have finished clearing all the gunk, dead leaves and other debris, use water to flush the gutters and check if they are functioning properly. To clean your downspouts, we recommend the use of a chimney pipe brush because it can fit well in the space and push out all the debris clogged in. Cleaning gutters is vital because in the winter, blocked gutters could lead to snow accumulation and ice dams, which will ultimately ruin the roof.
Winterize your gutters by repairing holes
When debris accumulates in the gutters, they start rusting, and with time, they eventually develop holes. Leaking gutters are bad for your home because all the rainwater will leak onto your walls and foundation, which weakens the structure and leads to the growth of mold.
Other ways in which you can winterize your gutters include putting in place leaf guards. These will prevent any leaves which land on the roof, especially during autumn, to start accumulating inside the gutters.
For the best results when it comes to repairing leaks and winterizing your gutters call us and schedule an appointment.  We offer turnkey services in this field. If your home's gutters clog frequently, consider asking us to install attractive gutter leaf protection covers. Simply contact us at 541-261-3998 for fast, responsive service!