Clean Gutters
If you own a lovely home in Southern Oregon, you'll appreciate the vital importance of clean gutters in helping direct water runoff from rain and melting snow away from your home's exterior. A convenient rooftop gutter and downspout system reduces maintenance responsibilities,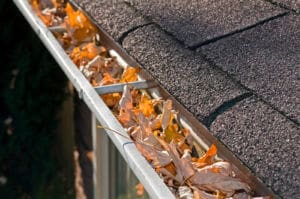 but owning a residence equipped with this popular roofing feature begs the question: when should you ask Gutt-R-Done to make a service call at your home to perform skilled gutter cleaning?
Gutter Maintenance Matters! Obtaining regular gutter maintenance matters for several reasons. Just consider a few of the benefits homeowners obtain by requesting regular gutter maintenance services:
Removing debris from gutters prevents the formation of blockages and clogs.
Preserving a clear channel for the flow of water through gutters and downspouts prevents runoff from trickling over the eaves to saturate the ground around the perimeter of your home (a potential source of basement water leaks).
Regular maintenance reduces the need to power wash the exterior of the residence to remove unsightly stains left by rain splatter.
Keeping gutters clear also decreases the likelihood of gutter system damage caused by large quantities of leaves and heavy branches collecting in this drainage system.
The Beauty of Clean Gutters
Most people appreciate the visible difference between clean, well-maintained gutters and downspouts and clogged, debris-filled systems. Requesting periodic gutter cleaning services will improve the "curb appeal" of most homes. For this reason, it usually makes sense to err on the side of caution when scheduling maintenance.
A Good Rule of Thumb
One good "rule of thumb" for this locale involves requesting maintenance services on a quarterly basis (i.e. four times per year) and adding additional cleaning sessions as necessary to help keep rooftop gutters functional and in a stylish condition. For example, if a particularly bad autumn storm causes twigs and leaves to cascade into a residential gutter, you may find it helpful to schedule an immediate extra cleaning appointment.
Contact Us to Schedule an Appointment Soon
Gutt-R-Done assists customers by inspecting, cleaning, and maintaining gutter systems. We offer turnkey services in this field. If your home's gutters clog frequently, consider asking us to install attractive gutter leaf protection covers. Simply contact us at 541-261-3998 for fast, responsive service!