What Are the Benefits From Seamless Gutters?
In the past, the only types of gutters available were made with seams, but today, you can have modern seamless gutters on your home that are designed without seams. You might wonder what the benefits are from having gutters without any seams, and this is what other homeowners say about the benefits of having these new varieties of gutters.
Benefit 1: Controlling the Moisture That Runs Into a Home's Gutters
If you have seamed gutters, then the moisture from snowmelt or rain can drip through the openings to damage a building's siding and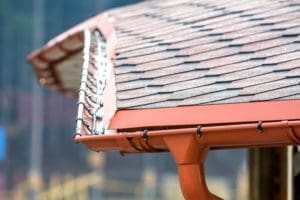 foundation. When you park a vehicle underneath these gutters, the moisture can drip onto an automobile, causing extensive damage. The gutters above a home's doorways will also develop drips near the seams of the gutters, and you will get wet when you are entering or leaving the building.
Benefit 2: Having Fewer Clogs In the Gutters
The seams in old-fashioned gutters will collect debris such as falling leaves, nests and trash, but with seamless gutters, debris will flow through the devices to the downspouts. Rather than needing to climb on an extension ladder to clean your home's gutters several times a year, the gutters rarely require cleaning.
Benefit 3: Gutters Without Seams Fit Better
When you have old rain gutters on your home, the devices were available in sections that were attached to each other along the edge of a rooftop. However, when you select gutters without seams, the items are made on-site with precise measurements so that the devices fit properly without any seams on the inside or outside of the items. Having gutters that fit precisely will protect your home from moisture damage, and the items will also create a more attractive appearance.
Benefit 4: Preventing Soil Erosion
If you are worried about having soil erosion on your property, then the installation of gutters without seams is imperative. With these gutters, the rain and snowmelt will enter a downspout so that you can direct the water to the proper location. You can have the downspout extended to make sure that the water enters a drainage system, or you can collect the water to use in other areas of your property such as a garden.
How Can You Make Gutter Maintenance Easier?
You will rarely need to clean gutters that don't have any seams, but if you do, then the process is easier because you can perform gutter maintenance by using a power washing device that emits pressurized streams of water, and also, a professional gutter maintenance company can perform this chore.
Call Gutter-R-Done Today
At our gutter installation company in Oregon, we offer expert gutter cleaning, repairs and maintenance services year-round. We operate a family-owned business that specializes in the measuring and installation of gutters that do not have seams. Call Gutter-R-Done LLC in Shady Cove today at 541-261-3998 to hire our bonded, licensed and insured technicians who can install seamless gutters at your home.