Routine Gutter Maintenance
If routine gutter maintenance is at the top of your spring cleaning list and you get a knot in your stomach at the thought, there is a better way.
All homes and buildings need routine gutter maintenance several times a year, depending on the number of trees in proximity to the structure or those pesky birds that think gutters are a great nesting place. Not to mention, the gunky, rain-saturated debris that has to be removed to prevent gutters from a blockage at downspout openings.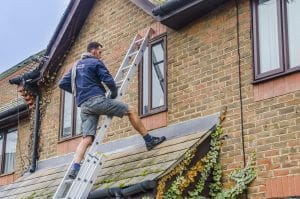 The thought of having to haul out ladder brushes to remove debris that collects in gutters and climbing one or two stories to reach gutters is a daunting task that causes homeowners unnecessary stress.
Gutters are also damaged by other critters like squirrels and raccoons that use them as access to attics. Then suddenly you notice your gutter are no longer draining correctly and your gutters have sprung leaks.
These are just a few reasons why you shouldn't forget to add routine gutter cleaning to your spring cleaning "to do" list.
Gutter Maintenance "To Do" By Someone Other than You
When you consider all the work involved in gutter cleaning and the dangers of climbing ladders while balancing gutter cleaning equipment, routine gutter cleaning is better left to professionals.
Home and commercial building owners in the southern Oregon region work smarter, not harder when it's time for gutter cleaning. They have no reservations about relying on the top gutter professionals, Gutt-R-Done, to provide a full complement of gutter services, such as the installation of seamless gutters and gutter cleaning. Estimates and professional gutter inspections are free.
The Best Way To Make Short Work of Your Spring Cleaning List
As soon as the weather in southern Oregon allows, spring cleaning lists start to grow. Study the type of spring cleaning that can be done by others. This helps you make short work of your large spring cleaning list.
Pare Down Your Spring Cleaning List
Gutter cleaning services by Gutt R Done is one way to pare down your spring cleaning tasks. The professionals at Gutt R Done use state-of-the-art equipment to install, repair and clean gutters. Their services are timely and cost-effective for commercial building owners and homeowners.
Excellent Customer Service and Superior Quality
Gutt R Done's staff takes pride in their reputation for excellent customer service. This is one of the reasons customer referrals from satisfied customers have increased the number of new customers. The other reasons for highest customer satisfaction are attention to detail and superior quality service.
The Importance of Annual Gutter Maintenance
When you contact Gutt R Done to set up an appointment for gutter installation, maintenance or repair, you'll find not only highest quality service but a knowledgeable staff that serves as your best consultants for all your gutter needs.
The old saying "An ounce of prevention is worth a pound of cure" rings true when it comes to your gutters. For more details or to set up an appointment for service today with Gutt R Done, visit https://guttrdonegutters.com/services/ or contact them by phone at (541) 261-3998.